"Woods can carry a show of any magnitude,
but what sets her apart is a heartfelt connection to the music
that cannot be taught or practiced; it truly has to come from the soul."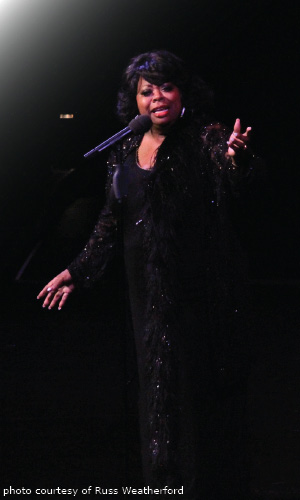 CAROL'S BIOGRAPHY

Carol was born and raised in Jamaica, New York. Her maternal grandparents immigrated from the West Indies and set out to raise their nine children in a home next door to the Pentecostal church where her grandfather was the pastor and Bishop. It was in that church that Carol learned to sing and it's those gospel influences that you can still hear in her singing today.

Though she knew she'd been given a gift, Carol never dreamed of being a singer, let alone making a living at it. All she ever wanted to be was a nurse, so she went to nursing school and got a job at New York's Queens General Hospital. It was her dream come true...except for the salary!
"Nurses didn't make anything back then. I loved nursing, but the economics weren't working for me and my two children." So, she became a postal worker. A friend asked her to to sing at an office party. After the party, that same friend goaded her into auditioning for his friend who owned a nightclub. That's when things began to change for Carol. The club owner loved her, and she realized that singing brought out the passion she'd lost when she left nursing.
The only problem in those early days, was that Carol's repertoire consisted of mostly gospel songs, with the exception of three popular songs, Summertime, Stormy Monday Blues and Sunny. So, each week she'd have to learn a few more songs to be able to play a complete set. Today her repertoire is so large, she can't remember the last time she sang Sunny.
Between 1965 and 1970, she performed with a group known as Carol Woods and the Executives. They recorded just one song called Ooh Baby, which is still in circulation today. That led to an association with the UK label Ember Records and a number of disco/soul-themed recordings which can now be found on the recently re-issued CD Carol Woods: Out Of The Woods.
After a couple of years working in Europe, where she be-friended Freddie Mercury and ended up singing back-up for him on some recordings, Carol returned to the states a bit disillusioned with the whole industry. Lucky for audiences everywhere, she was persuaded to give show business another try.
She is now a veteran of Broadway, music/cabaret, television and motion pictures, and is respected by the who's who of the theater and music industry. Her Broadway credits include Chicago, for which she is best known, having played Matron "Mama" Morton in hundreds of performances, but she's also starred in The Full Monty, One Mo' Time, Stephen Sondheim's Follies, Smokey Joe's Café, The Goodbye Girl, and The Best Little Whorehouse in Texas. She was nominated for an Olivier award for her performance in Blues in the Night and received a standing ovation at the 50th Grammy awards for her powerful rendition of Lennon and McCartney's Let it Be. Her television and screen credits include Across the Universe, Honeymooners, Stepping Out, Steam, Sweet and Lowdown, The Parent 'Hood, The Practice, Third Watch, Law and Order and most recently The Good Wife. Her steady and rewarding career also includes concert halls and nightclubs from New York to London to Tokyo to Russia. She has received outstanding reviews for her shows including her solo Carnegie Hall concert "An Evening with Carol Woods", and her cabaret show "From Blues to Broadway."
Along the way Carol has worked with the best and brightest in the business, all while relishing her role as mother and grandmother.
Look forward to her newest project, "Ain't We Got Fun: The Music of Richard Whiting."
CAREER HIGHLIGHTS
Theatre
Chicago: The Musical as Matron Mama Morton
One Mo' Time as Ma Reed and Big Bertha
Stephen Sondheim's Follies as Stella
Smokey Joe's Café
Tommy Tune directed Stepping Out as Rose
The Goodbye Girl as Mrs. Crosby
Blues in The Night
Grind as Maybelle
Big River
The Best Little Whorehouse In Texas as Jewel
The Crucible as Tituba
A Little Hotel On The Side
Taking My Turn
First Lady Suite as Lorena Hickok
The Full Monty as Jeanette Burmeister
Dreamstuff as Aladdin's mother Vy
Hot L Baltimore as Mrs. Oxenham
C'mon and Hear: Irving Berlin's America
A Christmas Carol as the Ghost of Christmas Present
Greensboro: A Requiem as Rose
One Touch of Venus as Molly Grant
Ma Rainey's Black Bottom as Ma Rainey
Stephen Sondheim's Side by Side
Triplets: The Diva Musical with Ruth Brown
King as Alberta Williams King
Hallelujah, Baby!
Film
Across the Universe as Gospel Singer
Sweet and Lowdown as Helen Minton, she sings All Of Me
The Honeymooners as Alice's Mom
Across the Universe singer of Let It Be
Steam as Ella, with Ruby Dee
When the Evening Comes as Mrs. Anderson
Eddie Murphy Raw as Aunt Bunny
Night And The City as secretary
Stepping Out as Rose opposite Liza Minnelli
Copland
Broklyn Babylon as Cislyn
The Blues as Aunt Patsy
Television
The Parent 'Hood
Law & Order
Third Watch
The Practice
The Big C
The Good Wife
50th Annual Grammy Awards
Concerts
The Village Gate
Carnegie Hall An Evening with Carol Woods November 27, 2000 Carnegie Hall debut at Weill Recital Hall: An Evening With Carol Woods

Benefit concerts for the Lauri Strauss Leukemia Foundation honoring Johnny Mercer (2001), Kander and Ebb (2003), and Marvin Hamlisch (2006).
92nd Street Y - Various Lyrics and Lyricists shows
Downtime - Her CD Bosom Buddies was recorded there live
Arci's Place - Stick Around ran from January 30 through February 24, 2001
Rainbow and Stars - 'S Wonderful, 'S Marvelous, 'S Gershwin (1992) with Jo Anne Worley
Michaels Pub - Tribute shows to Sammy Davis, Jr. and Pearl Bailey (1991)
Freddy's Supper Club - June 1985
Nell's
B. Smiths
54 Below
Iridium
New York Pops
The Village Gate
B. Smith's
Rainbow and Stars
Michael's Pub
54 Below
92nd Street Y
MAC Awards
Town Hall
Click here to read Carol's entry on Wikipedia.

Click here to read Carol's entry on IMDB.